QUOTES
Top quotes from Ram Nath Kovind's inauguration speech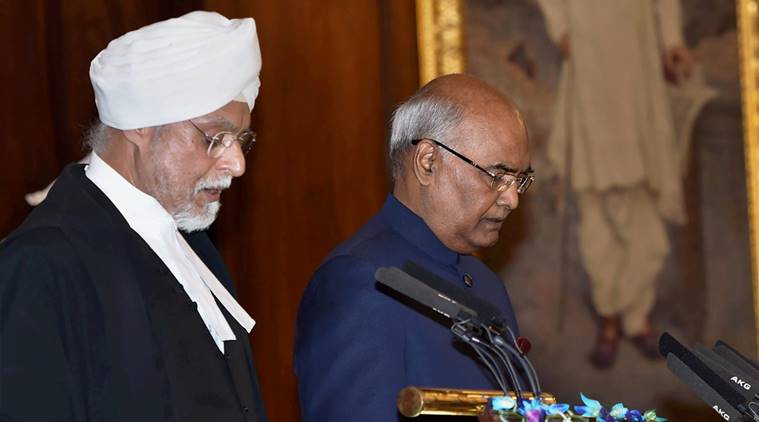 Ram Nath Kovind served as the Bihar Governor and was nominated by the BJP-led NDA as its presidential candidate. (Source: PTI photo)
Ram Nath Kovind took office as the 14th President of India on Tuesday after he was administered the oath of office by Chief Justice JS Khehar at a grand ceremony in the Central Hall of Parliament in the presence of Prime Minister Narendra Modi, former PMs Manmohan Singh and Deve Gowda, former president Pratibha Patil, chief ministers and MPs of both Houses of Parliament. Thanking everyone for the enormous responsibility bestowed on him, Kovind said, "I bow to the 125 crore citizens of this great nation and promise to stay true to the trust they have bestowed on me. Each one of us is a custodian of India's well-being and of the legacy that we will pass on to coming generations."
Kovind served as the Bihar Governor and was nominated by the BJP-led NDA as its presidential candidate. He won the presidential election last week receiving over 7 lakh votes in the Electoral College and thereby defeating Opposition candidate Meira Kumar.
Here are the top quotes from President Ram Nath Kovind's speech: 
# I bow to the 125 crore citizens of this great nation and promise to stay true to the trust they have bestowed on me.
# Our Independence was the result of efforts by thousands of patriotic freedom fighters led by Mahatma Gandhi. We need to build an India that is an economic leader as well as a moral exemplar.
# The key to India's success is its diversity. Our diversity is the core that makes us so unique.
# Nations are not built by governments alone. Nation building requires national pride. Each citizen of India is a nation builder. The armed forces that protect our borders and keep us safe are nation builders. Police and paramilitary forces that fight terrorism and crime are nation builders. Women who despite responsibilities at home and work raise children to be ideal citizens are nation builders
# Each one of us is a custodian of India's well-being and of the legacy that we will pass on to coming generations.
# We must combine tradition and technology, the wisdom of an age-old Bharat and the science of a contemporary India.
# It is appropriate that land of Lord Buddha should lead the world in its search for peace, tranquility & ecological balance
#My old memories from central hall of Parliament has been refreshed. In this central hall, we have discussed many things. I was brought up in a small mud hut in a small village.
# I feel privileged to walk on the same path as Dr Radhakrishnan, Dr Abdul Kalam and Pranab da.
# We need to sculpt a robust, high growth economy, an educated, ethical and shared community, and an egalitarian society.
# We have achieved a lot as a nation, but the effort to do more, to do better and to do faster is relentless. The citizen of this country are the real source of strength to me. Confident that people of India will continue to give me the energy to serve the nation.
#This is the India of our dreams, an India that will provide equality of opportunities.
["Source-indianexpress"]