SUCCESS
Recycle the Runway raises money for Dress for Success Quad-Cities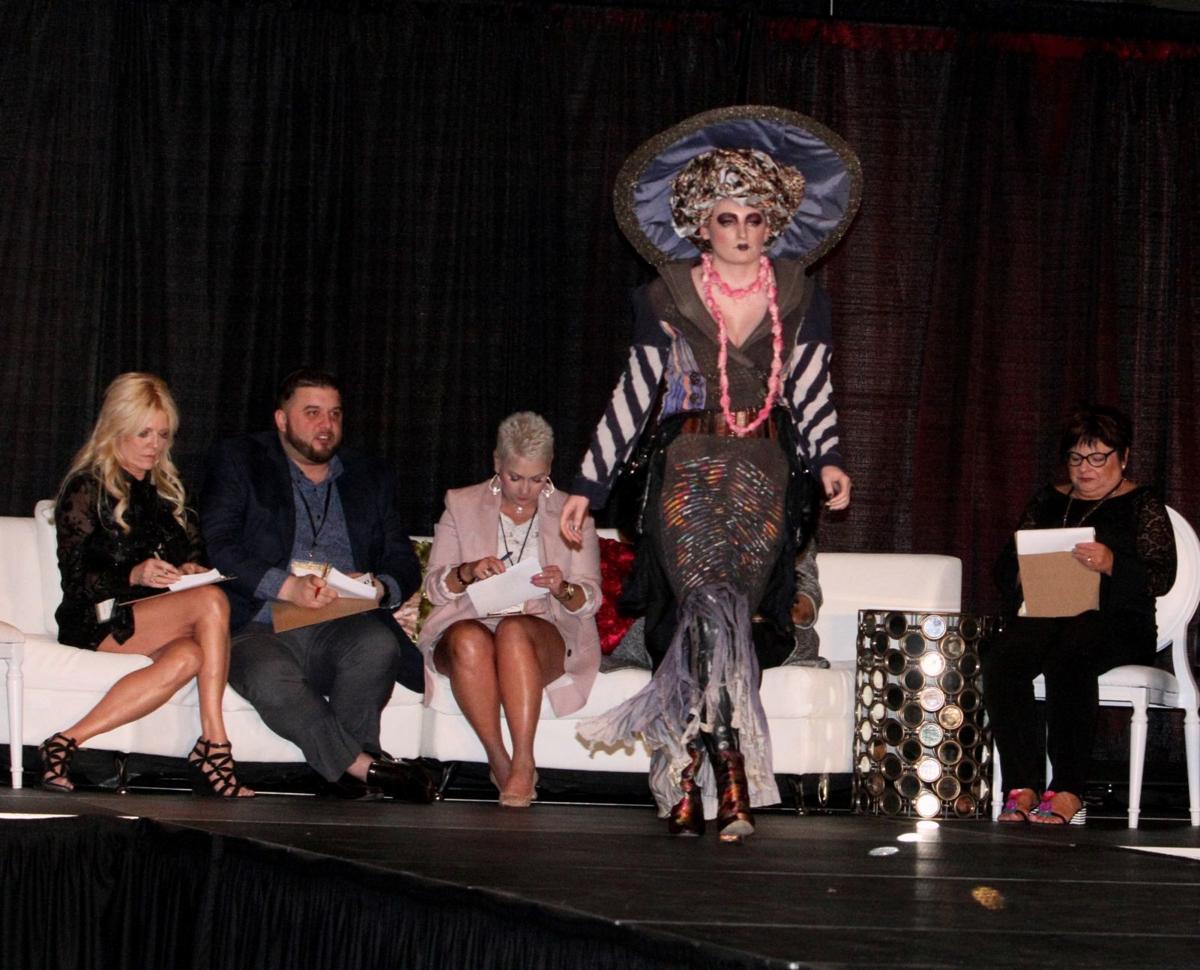 It was a night to shine for local clothing designers and to raise money for Dress for Success Quad-Cities at the fourth annual Recycle the Runway on Thursday at the Davenport RiverCenter.
About 500 attended the event, which keeps growing every year, said Regina Haddock, founder and executive director for Dress for Success said.
"Our first year we were in the Hotel Blackhawk and drew about 150 people," Haddock said. "We had 350 people attend last year and this year in the RiverCenter we have 500 people here. We're sold out."
It is the seventh year for Dress For Success, Haddock said, and in the process the organization has helped 1,200 women since it opened. The group provides support and attire to help women achieve economic independence.
For Recycle the Runway, Haddock said that the organization takes the clothes it can't use, and they're put in a black trash bag and the designers use those to create something fun and entertaining.
From the first year, she said, "designers came out of the woodwork. They wanted the chance to really take on a challenge."
The top three designers get cash prizes, and the designs are evaluated by a panel of five judges.
Dress for Success takes clients only on referral.
Haddock said the women who come in are ready to move forward in their lives and that's what Dress for Success does for them.
"We make people job ready, but it's so much more than that," she said. "When they get the job they can come back and get a week's worth of outfits.
"But we take it beyond just getting the job," Haddock said. "Now, it's I got the interview, I got the job, I kept the job, and now I want to achieve financial independence for me and my children.
"Every household moved out of poverty saves society an average of $30,000 a year," she said. "Multiply that by the 1,200 people we've served."
Women older than 40 have a tough time, Haddock said. "If you have longtime employment with a company, say 20 years, and that company closes or cuts back, now you're 40 plus and you're thrown back into a job search, that's tough."
That is the reason Dress For Success has its Professional Women's Group which works with women to help them gain confidence and learn about finances as well as the job market and finding a career, not just a job.
When Jennifer Crawford, 45, of Reynolds, Illinois, lost her job, she said she was in the unemployment office in Iowa when she met Haddock.
Crawford had gotten an interview and got hired on but she didn't dress clothes. "I got a referral and went in and had a suiting and was invited to be part of the Professional Women's Group," she said.
"I have learned some amazing things from all the women that come in and speak and I've met some amazing women," she said. "You form a bond, you form a sisterhood. I've never been part of a program where you meet people from all aspects of life and you come together and you support each other and boost each other up in good times and bad. It has been an amazing journey."
Krista Kirchner, who leads the Professional Women's Group, said that Crawford has been selected as a Success Summit Delegate and will represent Dress for Success Quad-Cities at the Dress for Success Worldwide Leadership Conference this year in Miami.
Kirchner said she is a graduate of the Professional Women's Group, and like Crawford, was chosen to be a delegate at one of the Dress for Success conferences. "The goal is to come back to the Quad-Cities, create your own project and pay it forward," Kirchner said.
Crawford said that this year's topics at the conference are, 'Knowing your Brand' and 'Finance.'
Cassandra Newphew, 44, has a bachelor's degree in business administration from Kaplan University and is currently in training with the Illinois Department of Corrections to be a corrections officer at the East Moline Correctional Center.
Newphew learned about Dress for Success by meeting Kirchner at the unemployment office. She joined the Professional Women's Group in 2015.
"I was a supervisor for a security company for 13 years, so this is a good fit," Nephew said.
She said that Dress for Success and the Professional Women's Group has been a huge confidence-builder.
"I was 40-years-old when I graduated college," she said. "My oldest child was older than a lot of the kids I was graduating with so I lost a lot of my confidence. I thought, 'I can't compete with these young people.'
Getting into the Professional Women's Group helped her get geared for success and a career.
"That's why I chose being a corrections officer, I want a career," she said, adding that she's still in the training and probationary period. But Nephew said she's confident she'll make it and be excellent at her chosen career.
This year's Recycle the Runway winners are: First Place, Svetlana Larson, who won $650; Second place, Red Perez, who won $250; and Third Place, Sara Wegener, who won $100.
["Source-qctimes"]