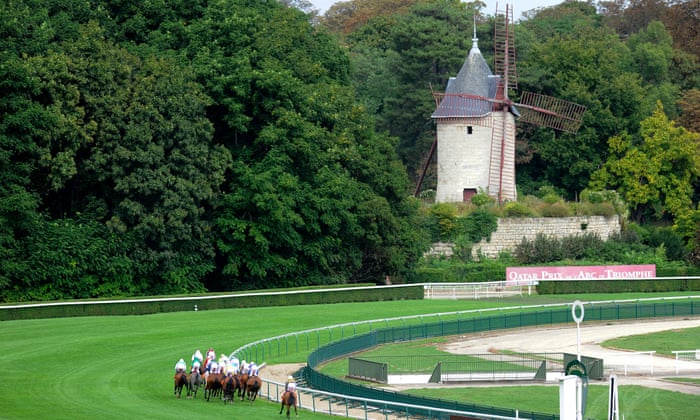 French officials are claiming their controversial new weight allowance for female jockeys is already showing signs of being a success, based on the early results of the Flat-racing season. Women have ridden twice as many winners as at the equivalent stage last year, they say, and more women are getting rides than in the past.
A formal review of the allowance will take place at the end of May, at which point there will be three months of results to take into account. But France-Galop has already had a dip into the available figures and found that women collectively had ridden 20 winners compared with 11 at the same point last season.
François Boulard, racing director of French racing's ruling body, said female jockeys had been given 25% more rides than last year and had been placed 130% more often. Speaking at Deauville races on Saturday, he added that the number of individual female jockeys to have had rides had gone up by more than 20%.
"We are quite pleased with the first results," he said. "At the end of May maybe it will be more significant."
Under the new French system, applying to 90% of races, horses ridden by women have 2kg deducted from the weight they would otherwise have carried, with the intention of encouraging owners and trainers to make more use of female jockeys. But some in Britain, including last year's champion apprentice, Josephine Gordon, are offended and in some cases outraged at the suggestion that women cannot be as effective as men in the saddle.
Édouard de Rothschild, president of France-Galop and the driving force behind the scheme, was also at Deauville to clarify the reason why he pressed ahead despite opposition. "Fair or not fair, whether the male jockeys or female jockeys like it or don't like it is irrelevant," he said. "The key point is, the biggest challenge the whole racing industry faces is the opportunity to attract more people, newcomers, new generation, new people.
"Equestrian sports including racing have this amazing feature that women and men can compete in the same competitions and we should take advantage of this. So we gave 2kg, we're not saying it's good, right, wrong, perfect, equitable or not, but it generates a lot more opportunities already.
"The statistics are there. And this is such a big challenge for the racing industry that if France can be leader, if we can innovate, there's nothing wrong with this."
The British Horseracing Authority is monitoring the results of the scheme while it considers the question of whether anything comparable should be introduced in Britain.
An enormous room has been set aside for female jockeys within the new grandstand being built at Longchamp in a western suburb of Paris. Although initial demand for the changing room, which will have its own sauna, will be slight in comparison with the male equivalent along the hall, France-Galop clearly anticipates a time when there will be many more women riding in French racing, perhaps at the highest level, to which the weight allowance does not yet extend.
Officials report the €130m construction at Longchamp to be continuing on schedule for completion in October, with a view to resumption of racing on 8 April, perhaps with an earlier "soft launch" race-meeting to test the facility. Something impressive appears to be taking shape and the entrance in particular should be appropriately grand, racegoers passing through the familiar wrought-iron gates and mounting a broad staircase to the stands with Gladiateur's statue standing proudly in the middle.
The track itself has not been touched, except for some improvement to drainage and a reseeding with English rye grass. Purists will also be reassured to hear that the beloved paddock will be almost exactly as it was but extended by 30 metres and with more trees. Indeed, the general plan for the area behind the stand is "more green, less concrete".The new stand, while imposing, will be a scaled-down version of the two that were there before, an acknowledgement of the fact that, apart from Arc weekend, old Longchamp was never remotely close to full. The new building's capacity will be 22,000, less than half the likely crowd on Arc day, for which temporary facilities will be built.
For those with access to the new stand, the experience is expected to prove first-rate, with a view of both the track on one side and the paddock on the other offered by every room in the spectator areas. For other racegoers, there will at least be an increase in the number of outlets offering food and drink.
It is a slight concern to hear that France-Galop has yet to decide whether the temporary second stand for Arc weekend is to be roofed. While the weather is generally fine in Paris for the first weekend in October, there is no law that this must always be the case, and there will not be anything like enough shelter for those present if it rains on the Arc crowd and that temporary stand has no top to it.
A plan to rebrand the racecourse as ParisLongchamp is also likely to jar on British ears. While the intent is clearly to take advantage of the city's fame, the outcome sounds uncomfortably like the failed attempt in 2014 to get us all talking about "The Racecourse Newbury".
Plans for an all-weather track to be laid out inside Longchamp's turf circuit are still treasured by France-Galop but the local conservation laws are not the only obstacle. Boulard said that France's racehorse population has declined since 2012, when a tax on owning racehorses was raised from 7% to 19.6% of prize money won.
France-Galop is clearly interested in learning the views on the matter held by the incoming president, Emmanuel Macron. If he is not minded to reduce that tax to its former level, there might be some question about whether there are enough racehorses to justify a €2m new all-weather track.
Today's tips Chris Cook
Sedgefield 1.50 Alys Rock 2.20 Ravens Hill 2.50 Cup Final 3.20 Oscars Boss 3.50 Maxed Out King 4.20 Too Many Diamonds (nap) 4.50 Way Out West
Beverley 2.00 Lord Riddiford 2.30 Whigwham 3.00 Henley 3.30 Yorkee Mo Sabee 4.00 Katebird 4.30 The Raven Master 5.00 Mountain Angel 5.35 Amadeus Rox
Warwick 2.10 Yourholidayisover 2.40 Bardd 3.10 El Bandit 3.40 I'm Still Waiting 4.10 Rocknrollrambo 4.40 Rebel Rebellion 5.10 Rhaegar
Southwell 5.30 Gorran Haven 6.00 Such A Legend 6.30 Galway Jack 7.00 Blue Rhythm 7.30 Back De Clermont 8.00 Workbench 8.30 Lovely Touch
Chepstow 5.40 May Remain 6.10 Valley Of Rocks 6.40 Fit For The Job 7.10 Wink Oliver 7.40 Miss Inga Sock 8.10 Eolian (nb) 8.40 Aristocracy
[Source:- theguardian]