MOTIVATION
Modi's Cabinet Changes Give This Message – He's The (Sole) Boss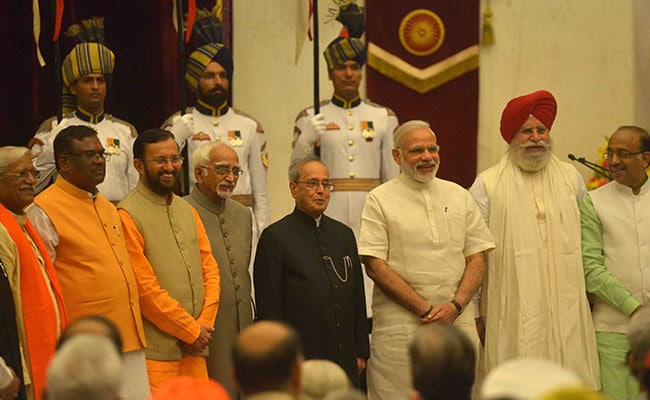 It turns out, much to everyone's surprise, that the ministerial reshuffle wasn't a minor matter after all. Many believed that Prime Minister Narendra Modi – given how often he expresses satisfaction with his government's working – would not feel the need for major changes to his team. But he made them anyway; presumably, he felt that some things needed to be fixed.
So what could have been the motivation for the reshuffle? It's a bit difficult to argue it was all about "performance", though that's what government-friendly spin doctors would like us to say. If so, there would have been no reason to sack Jayant Sinha as Minister of State for Finance, or to keep V K Singh in one of his posts: Minister of State for External Affairs. If "call drop minister" Ravi Shankar Prasad has been fired from the Telecom Ministry for poor performance, then why has he been given Law and Justice – arguably an even more important ministry?
No, the balance of probability is that there are many other reasons underlying the changes.
First: the BJP's political calculations. Three of the new entrants into the council of ministers were from Uttar Pradesh, which is due to hold assembly elections next year. Gujarat, where the BJP might be in trouble in the assembly elections, also saw its numbers in the council increase. More to the point, five of the new ministers were Dalits. In 2014, a significant proportion of the mandate that swept the BJP to victory in 73 of UP's 80 seats was because young Dalit men abandoned Mayawati's Bahujan Samaj Party to vote for Modi. The BJP has no path to victory in the state assembly election without them. Yet, the Sangh Parivar's apparatus on the ground in the state has struggled to incorporate Dalits in leadership positions. (This should surprise nobody, given its core ideology). This has led to considerable disaffection. Amit Shah and Modi will hope, no doubt, that increasing Dalit representation at the highest levels will make up, in part, for being unable to do so at the grassroots.
Second: Modi's need for complete control. Many of the ministers who have been rewarded are those who take the Prime Minister's Office's suggestions as orders; many of those who have been punished are those who made their ministry's case vociferously to the PMO. Unreliable allies like the Shiv Sena continued to be excluded; entertainingly, an editorial in the Sena's paper, Saamna, said that "Modi is the lone face of this government. Compared to this, the ministries of Indira Gandhi and Jawaharlal Nehru had some excellent members…" That must sting.
Third: rewarding smart political management. Those who managed opposition to their machinations with minimum fuss have been rewarded. The big example here, of course, is former Human Resources Development Minister Smriti Irani. Much though the Delhi cocktail-and-Twitter circuit would like to imagine that Irani has been fired for being bad at her job, the truth is that she was very good at it. She implemented the RSS' agenda exactly, ensuring that Sangh members or sympathisers got important positions in institution after institution and university after university. She ensured that the Akhil Bharatiya Vidyarthi Parishad, the BJP's youth wing, got whatever they wanted whenever they wanted it – as the Rohith Vemula case made clear. The problem was, perhaps, that she confronted opposition head-on, drawing attention to herself.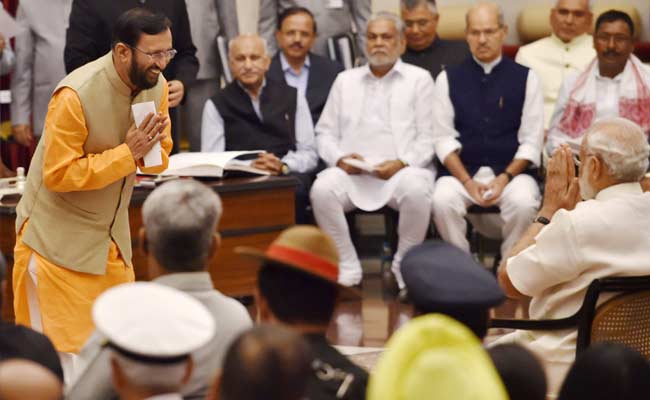 Consider instead her successor as HRD Minister, Prakash Javadekar. In his tenure at the Environment Ministry, Javadekar probably was objectively much more dangerous than Irani was at HRD – he drove a large SUV through environmental protections, gutted the independence of the regulator, and abandoned long-held climate change positions. But he did it with minimum fuss, and worked hard to disarm or silence any opposition, instead of taking on his detractors. Modi has clearly indicated which method he preferred.
Once you look at the ministerial reshuffle this way, it becomes clear that it fits with Narendra Modi's overall style. He doesn't approve of his ministers hitting the headlines, only he is allowed to do that; he puts the party's needs in state politics first; and he always needs everyone in his team to remember he's the boss.
There are also a few other useful indicators in the reshuffle. In particular, some persistent myths have been quite effectively shown up.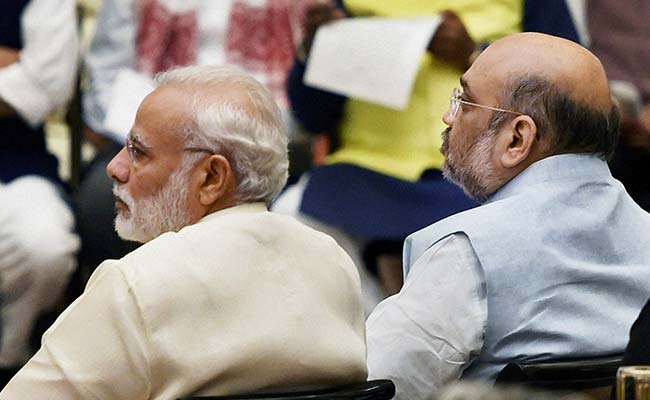 First, that the RSS has no role in governance choices. It's worth noting that Amit Shah went to consult with RSS leaders in Delhi before the news of the new portfolios was out.
Second, can we please stop hearing that "minimum government" line? In 2014, when Modi was first sworn in – with a 45-member council of ministers, he was widely praised for "keeping his promise" of minimum government. Naturally, he led the praises himself, tweeting: "Keeping our commitment to 'Minimum Government, Maximum Governance', we have made an unprecedented and positive change in Ministry formation".
Well, right now, Modi Sarkar is at 77 or 78 ministers – people are losing count – which is about the same as the UPA-II he derided, and just a few short of the legally-mandated maximum. It could be argued there's no link between the number of ministers and the overall size of governance – but what matters, surely, is that Modi and his backers claimed there is. Either way, Modi's government looks quite as maximum-sized as anyone's before him.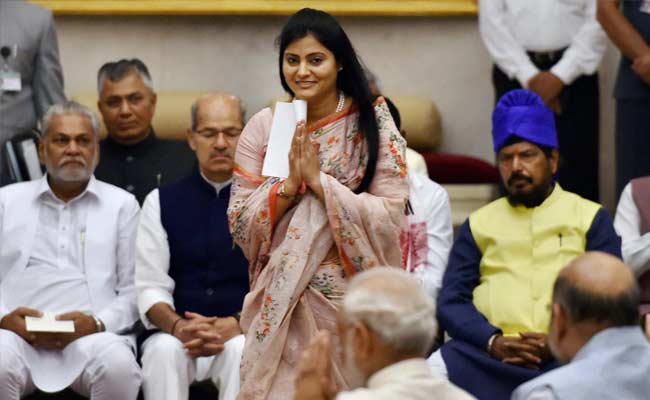 Finally, let us never hear again the pious bleating of Modi's more "moderate" bhakts that the Prime Minister himself is upset about anti-Muslim sentiment being expressed by powerful BJP leaders, and is cracking down on those who attack Muslims. Mahesh Sharma, the cabinet minister from Western UP who was at the centre of communal polarisation, and Sanjeev Balyan, who tried to single-handedly create the "Kashmir in Kairana" hysteria not so long ago, have not been sacked (although they have been shifted around).
Indeed, just the opposite: Eastern UP's Anupriya Patel, who just a few weeks ago tweeted that "traitors" caused 100 million (UP Hindus) to be "scared" of 20 million "mullahs" – there are 20 million Muslims in UP – has been rewarded with a ministerial position.
You see, that's the kind of performance Narendra Modi really approves of.
["source-ndtv"]