STARTUPS
Meet the hottest security startups making the web a safer place to be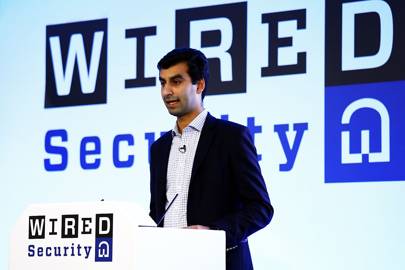 In a lofty room on the 39th floor of the iconic Canary Wharf, 14 security startups joined a pitching contest to convince three expert judges they should win the contest and get to close the inaugural WIRED Security conference.
Judging their performance on innovation, disruptiveness and how relevant the problems they were trying to solve were Ruth Anderson, director at KPMG, Gary Stewart, director of Wayra UK and Telefónica Open Future_ UK and Abdul Guefor, from Intel Capital.
Firms trying to win the judges' attention involved everything from those working with the blockchain to confirm identity to those developing algorithms to help prevent thefts in shops. Startups also ranged from those who have completed series A investments to those within a few months of forming.
At the end of an intense day of pitching, following debate by the judges, CheckRecipient was crowned the winner of the stage and went on to present to the main WIRED Security audience.
Sensitive emails being mismanaged or sent to the wrong person can be costly – ask this London HIV clinic. In May, 56 Dean Street was fined £180,000 by the Information Commissioner's Office after it accidentally sent private patient details, including information that could identify individuals, to the clinic's other patients.
CheckRecipient wants to minimise insider threats and stop hapless employees sending private company information to the world. Tim Sadler, the firm's CEO, describes employee mistakes as being a "huge problem". As a result, the firm, which won the startup stage, has developed a machine learning platform to stop users hitting "send" too soon (or at all). It focuses on four areas: misaddressed emails, intellectual property theft, auditing, and the creation of custom rules.
With no sales manager or marketing team, Sadler and his head of business development, Abhirukt Sapru, have installed their product at some of the UK's largest law firms and say its first FTSE100 install is on the way.
The CheckRecipient platform works by scanning all of an employee's emails and creating a social graph of who they frequently communicate with. Each time an email is written, the software checks the recipient. Sadler says emails are checked in "sub 100 milliseconds" and the machine learning used to scan emails is "understandable to the end user".
When an email is going to be sent to a person the sender doesn't usually communicate with, a warning will be flashed-up on screen, which is intended to stop the message from being sent or at the very least highlight a potential problem.
Update: After winning the WIRED Security 2016 startup stage, CheckRecipient has gone on to raise $2.7 million (£2.1m) in funding as part of a round led by Accel and LocalGlobe. The firm is planning on using the investment round to expand its services to the United States.
Chris Wallis' concept is simple but effective. His company, Intruder, scans computer networks and providers alerts to customers when it spots "weaknesses" hackers could exploit. The CEO says his cloud-based system is always on, runs daily checks for new problems, and can send emails or texts to users if one is detected.
Wallis added that the company runs penetration tests and provides notifications to its customers in an easy to understand way. The beauty behind the system is that the system, as it is notification-based, can be used by those without dedicated security teams.
[Source:- Wired]