MOTIVATION
Marsden motivated by path of older brother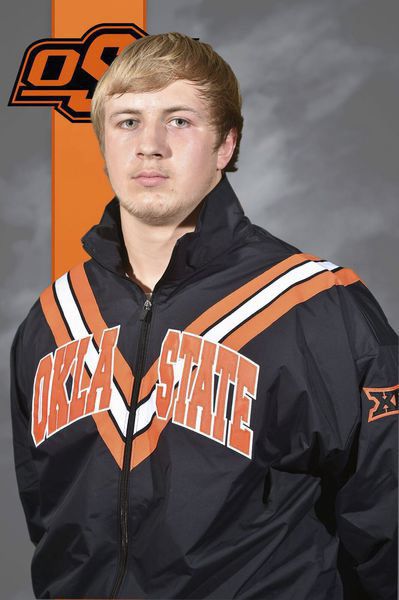 Andrew Marsden has always had a motivating force right in front of him in his wrestling career.
The redshirt sophomore for Oklahoma State is the younger brother of Austin Marsden, a two-time All-American at OSU, and that has been his motivation.
"Ever since I started wrestling, I've been looking up to my brother and I always saw him as my role model," said Andrew, who is four years younger than Austin. "It might sound a little selfish of me, but everything Austin did, I wanted to do better. I've always wanted to beat my brother."
But now that his older brother, who won three Big 12 Conference titles at heavyweight, is no longer in the wrestling room at Oklahoma State, the younger Marsden is growing a greater sense of what Austin was doing in preparing his younger brother for the riggers of wrestling in Stillwater.
"Now that I've grown up, I realize that he truly cared about me in the sense that he wants me to beat him," Marsden said. "He's a two-time All-American and he tells me that he wants me to be a three-time All-American. He's been so supportive and after every single tournament he's texting me support or tips. So he's not only a great brother, but a great teacher and coach."
While Marsden hasn't really gotten his college wrestling career off the ground – having his redshirt pulled late in his first year on campus before spending last season as a full redshirt – he has begun to show glimpses that he could contend with the success his brother found in the program.
Despite wrestling in just 16 matches – competing exclusively in open tournaments during his redshirt season – Marsden actually tied for the most pins on the team with 11, with a 13-3 record. His two other victories were by technical fall and major decision. He won tournament titles at the OCU Open and the Norseman Open, while finishing second and fifth at the Outlaw Open and Joe Parisi Open, respectively.
"That was actually a shock to me. I thought Chandler Rogers got it all the way because I only wrestled four tournaments," Marsden said. "It seemed like every one or two matches for Chandler were a pin, so I thought he did it every other match.
"So when it was announced at the banquet that I had tied him, it actually felt pretty cool. Now my competition might not have been as good as his, but it still felt really good to get that accolade."
He carried that success from his redshirt season into the early part of his summer in preparation for potentially breaking into the starting lineup for the Cowboys.
At the UWW Junior Freestyle National Championships in Las Vegas, Marsden went 5-0 in the tournament and escaped with an 11-10 decision over Nathan Traxler, a redshirt freshman from Stanford, in the championship match.
"It's a huge confidence booster," Marsden said. "This is one of the first stop signs I've ever won, first national championship I've won post-elementary school – where it really matters. Just very exciting."
It took a decision by Cowboy coach John Smith just days before that tournament to set in motion the run by Marsden.
The Crystal Lake, Illinois, native was still attempting to get his weight down three days before the tournament – getting down to as much as 198 pounds. But, according to Marsden, Smith shifted gears with Marsden "already looking dehydrated" and he began putting weight back on to wrestle at 211 pounds. He got to around 205 for the tournament.
The original plan was to return to cutting weight and drop back down after the tournament to go in at the lower weight for the U.S. Junior World Team Trials that are scheduled this weekend in Lincoln, Nebraska.
Thanks to winning the title in Las Vegas, Marsden will remain at 96kg to maintain the automatic berth into the championship series at the weight. He will just have to win a best of three series against an opponent who has to wrestle his way to the series to earn a spot on the U.S. Junior World Team.
"I had planned on going a weight below (at Freestyle Nationals), but I was a little stupid about my weight cut and coach (John Smith) had me bump up to 211 (pounds) to qualify and then we'd drop back down for the (Junior National Team) Trials," Marsden said. "When I won the tournament, coach was like, 'I guess it's a good thing that you won it because now you get to sit out to the finals and hopefully you get make it to the World Team.'"
And that's where his latest motivation is coming from.
His older brother earned a spot on the Junior World Team in two separate occasions. And while this is the last year Andrew is eligible to make the team for his first time, he knows he can make up ground if he were to make it to the Junior World Championships in Tampere, Finland, by how he performs at the event.
"I want to be able to fulfill that legacy that my brother created," Andrew said. "He was a two-time World Team member, and I only have one chance, if I'd make it, I know we'll joke around and he'll say, 'Well I made it twice, you've only made it once.' But I still need to win this tournament and try to do well and talk a little smack back to him."
Listed on the roster at 184 and 197 pounds, Marsden is a possible candidate to replace recent graduate Nolan Boyd – who was a four-time NCAA qualifier and a two-time All-American after walking onto the Cowboy program at 184 pounds.
But if he is to fill that spot, he's going to have to make sure he can control the weight that forced him into a higher weight class in Las Vegas.
After spending last summer without focusing on his weight since he knew we would be redshirting, Marsden said his recent success has made his weight a priority over the next several months.
"This summer can help propel me into next season," Marsden said. "If I can make this World Team, I'll go to the Olympic Training Center and wrestle with some other guys out there that would be a huge advantage for me.
"But even if I stay here in Stillwater, it's going to keep me on the mat more. Last summer, I went home for a month because I wasn't really focused on starting. This summer, I'll definitely be more on the mat and get more time with the coaches."
[Source:- stwnewspress]