Like a trusty friend in your phone, podcasts are always there when you need them. There's something joyous about timing your weekly routine around the release of new episodes, and about sticking in your headphones — at work, at the gym, as you cook dinner — and giving in to someone else's story.
But as the medium expands to new terrains, you might find yourself in a Netflix conundrum: With such a massive number of podcasts, covering topics as broad as true crime to food to travel to My Little Pony, how do you choose what deserves a listen?
We're here to help! We've compiled a guide of the best new podcasts of 2018, organized by iTunes categories and updated regularly. Whether you're here for a good murder mystery, are interested in immersive pop-culture conversations, or want to get nerdy about science, you're sure to find something you like. Here's a look at all of the new stuff the podcasting world has to offer (we only considered new podcasts, because holy crap there are a ton of podcasts). When you're finished, don't forget to check out our list of best movies of 2018 and best TV shows of 2018.
Dear Franklin Jones
Category: History
Hosts: Jonathan Hirsch
Producer Jonathan Hirsch looks back on his childhood in a spiritualist cult, and his family's complicated relationship with its leader, Franklin Jones. Hirsch reflects on this period through interviews with his parents, adding an ultra-personal touch to a subject matter often jaded by conflicting narratives and too many talking heads. Instead, Dear Franklin Jones is a stripped-down look at how cult mentalities can seep slowly — and parasitically — into the everyday lives of an American family.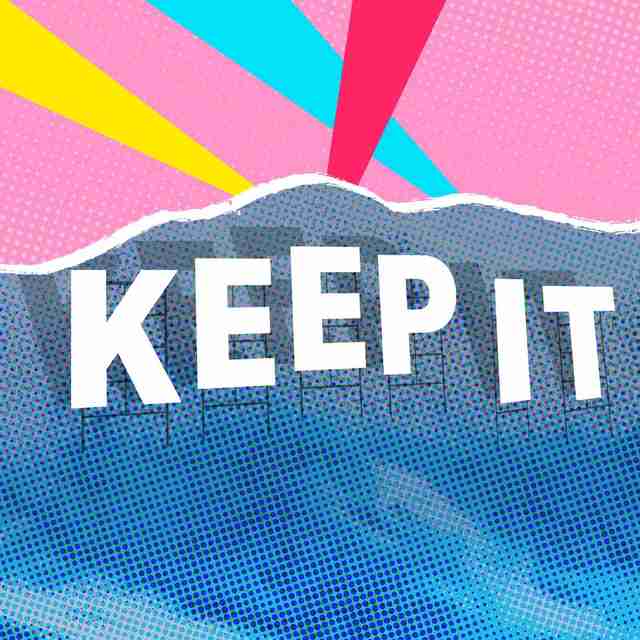 Keep It
Category: Society & Culture
Hosts: Ira Madison III, Kara Brown, Louis Virtel
iTunes is saturated with news and pop culture podcasts, but none are as laugh-out-loud hilarious, racially charged, and politically scathing as Keep It. Named for host Ira Madison III's popular Twitter catchphrase, Keep It goes deep into weekly pop culture and political news, from the Roseanne revival to the new Rachel Dolezal documentary to Omarosa's ill-fated White House stint. Come for the belly laughs, but stay for Ira's brutal takedowns of Stacey Dash, Kara's incisive discussions about race in America, and Louis' obsession with Karen Carpenter.
Making Obama
Category: Society & Culture
Hosts: Jenn White
Barack Obama's relationship with Chicago is a key part of his journey to the White House. Though he was raised in Hawaii and Indonesia, Obama became synonymous with Chicago; it was the city that grew him politically and progressively, and that led him directly to his role as President of the United States. Making Obama, produced by WBEZ (a National Public Radio affiliate based in Chicago) chronicles the future president's time in the city he now calls home, from his arrival at age 24 to his time in the Illinois Senate and beyond. A sequel to last year's Making Oprah, Making Obama is an insider's look at a man and a city, and how the two are forever intertwined.
Armchair Expert With Dax Shepard
Category: Comedy
Hosts: Dax Shepard
Forget whatever preconceived notions you have of Dax Shepard. There are plenty of celebrity interview podcasts out there (WTF with Marc Maron, Nerdist, Here's the Thing), but there's something special about actor/comedian Dax Shepard's take on the format. Shepard is a recovering addict and the husband of a super-famous wife (Kristen Bell), facts that add color to his unique perspective on fame. Armchair Expertgets big names — like Ellen DeGeneres, Jimmy Kimmel, and Katie Couric — but feels small, conversational, and, most of all, kind. Shepard has the enthusiasm of someone truly grateful for his place in his industry and this moment, and that joy seeps through even the grittier details of his past life. Plus, it's a lot of fun to hear him go deep with former co-stars like Lauren Graham (Parenthood) and Ashton Kutcher (Punk'd). And yes, Kristen guests, too.
The Last Movie
Category: Performing Arts
Hosts: Nic Silver, MK
From the guys who brought you Tanis and The Black Tapes comes another fictional horror story that's packed with a hearty dose of serialized thrills. The Last Movie tells the story of an infamous underground film reported to drive anyone who watches it insane. (Like Infinite Jest meets Night Film meets an old episode of John Carpenter's Masters of Horror.) Your mileage may vary on some of the horror tropes and editing flourishes, but this is good popcorn listening for a rainy day. If you like this, be sure to check out Limetown, arguably the best fictional horror podcast that exists, and which thankfully returns later this year after a too-lengthy hiatus.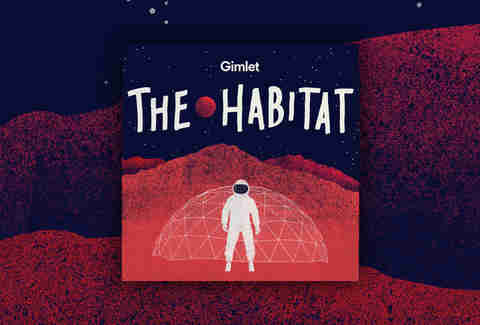 The Habitat
Category: Science & Medicine
Hosts: Lynn Levy
In 2015, six scientists went to Mars; not the real Red Giant, but a simulated dome at the foot of Hawaii's Mauna Loa volcano, where they lived for eight months, undergoing experiments and pretending they were on a real expedition to another planet. Podcasting company Gimlet acquired the real audio diaries the scientists recorded during their experiment, and turned them into a narrative podcast that became The Habitat. Host Lynn Levy narrates this fascinating dive into a niche bit of real-world history, which filters big-idea science through interpersonal stories.
Atlanta Monster
Category: Society & Culture
Hosts: Payne Lindsey
Documentary filmmaker Payne Lindsey broke on to the podcast scene with the popular true crime saga Up and Vanished, which shed light on the disappearance of Georgia woman Tara Grinstead. That 2016 podcast was so popular, it renewed interest in the decade-old case, which helped uncover the identity of Grinstead's murderers, who were arrested in 2017. Up and Vanished is a mighty tough act to follow, but Lindsey was up for the challenge, and Atlanta Monster is just as harrowing, well-researched, and thoroughly digestible as his first big outing. The podcast digs into the story of the Atlanta Child Murders, which occurred from 1979 to 1981. At least 28 black children, most of them from poor neighborhoods, were killed in the spree, and many questions hang over the case (rumor has it that it will feature prominently in Season 2 of Netflix's Mindhunter). Atlanta Monster tells the stories of those who were lost, the impact the murders had on their community, and the many dangling threads and dead-ends in the police investigation. It's an ambitious attempt, and ultimately less successful than Up and Vanished, but it's an intriguing look at a devastating story buried by time and an ever-hungry true-crime cycle.
Category: Society & Culture
Hosts: Molly Lambert, Tess Lynch, Emily Yoshida
"Are you in need of company during those strange days and lonely nights?" So ask the hosts of AudioBoom's Night Call, a fun conversational podcast in the vein of late-night call-in talk radio. The hosts, all former Grantland writers, have a great rapport, and they cover any number of topics, from astrology to ghost stories to Harrison Ford. The "free jazz" format is a welcome respite from laser-focused pods; Night Call has the nostalgic feeling of spinning the knob on your AM radio, searching for far-off voices to drown out the noise of life and guide you to sleep. But be warned: you wake up with UFOs and Valerie Solanas on the mind.
Disgraceland
Category: Society & Culture
Hosts: Jake Brennan
Writer Jake Brennan takes listeners through the twisted histories of several cult figures in the music industry. Did you know Jerry Lee Lewis possibly murdered his fifth wife? That Sid Vicious' mother gave him his final — and lethal — dose of heroin? Big-time rock fans may be familiar with these stories, but Brennan breaks down the more nuanced elements of these doomed icons and their bizarre trajectories. And it's not just rock icons that get the Disgraceland treatment; a recent episode chronicles the life and death TLC's Lisa "Left Eye" Lopes. The podcast dips into true crime and music history, but comes from a unique place of genuine affection, and there's nothing cynical or jaded about Disgraceland. Brennan's voice is soothing and articulate, and he delivers nuggets of lesser-known information with the confidence and clarity of a creator who clearly loves what he's doing.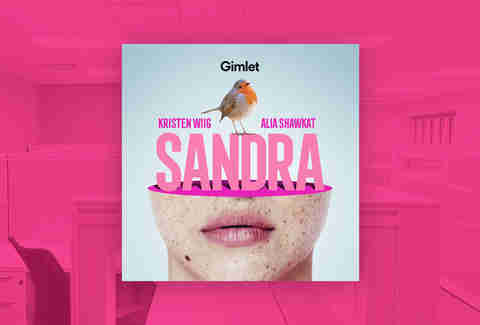 Sandra
Category: Performing Arts
Cast: Kristen Wiig, Alia Shawkat, Ethan Hawke, Christopher Abbott
Like a radio play of yesterday, but with a futuristic slant, Sandra is a fictional serial with a hefty amount of star power and a tantalizing premise. Alia Shawkat plays Helen, an Oklahoma girl who abandons her former life to work at Orbital Teledynamics, an Amazon or Apple-esque tech company that specializes in a smart-speaker virtual assistant called Sandra (voiced by Kristen Wiig). But Sandra, it turns out, isn't controlled by AI technology; employees who work as behind-the-scenes operators, like Helen, do. The story starts out with whimsical Her vibes but winds up more like Dave Eggers' The Circle, a thriller that, like Sandra, evolves into a fable about the dangers of tech corporations that can't help Big Brother-ing their consumers. Ethan Hawke voices Helen's boss, Dustin, and Girls' Christopher Abbott plays her deadbeat ex-husband. It doesn't reach the same heights as something like Black Mirror, but it's a noble effort for the medium, and the cast has a lot of fun with the material — particularly Wiig, whose monotone delivery is somehow both perky and terrifying.
Looking for a new podcast to satiate your appetite? Seeker's (part of Group Nine, Thrillist's parent company) new podcast, Bad Science, is putting movies under the microscope. Infinitely curious host Ethan Edenburg sits down with a comedian and a scientist to break down the inaccuracies of a particular film. In episode one you'll hear Reggie Watts and a NASA Systems Engineer dive into Star Wars and episode two features Doug Benson analyzing Back to the Future with two physicists. Bad Science keeps things fresh by involving fun games like "Carl Say-Again" in which experts explain scenes that are filled with scientific jargon. If you love comedy, movies, or science, this show is for you.
["Source-thrillist"]