QUOTES
8 quotes on love and life by Vladimir Nabokov
01/8

 "Loneliness as a situation can be corrected, but as a state of mind it is an incurable illness"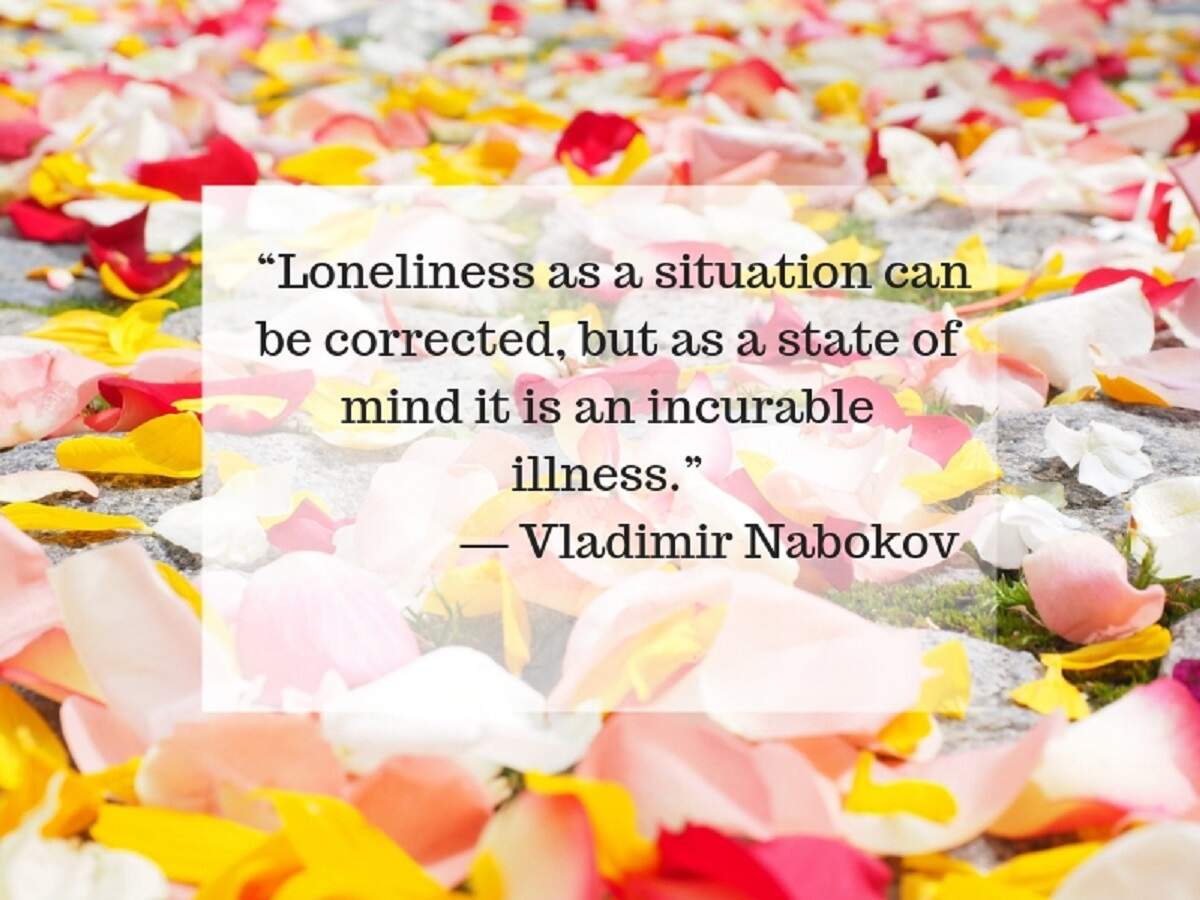 Russian-born American poet, Vladimir Nabokov was a fiction writer, critic, and butterfly expert. Best known for his literary masterpieces like 'Lolita', 'Pale Fire' and 'Pnin', Nabokov was one of the biggest authors of his time. Nabokov was born on April 22, 1899 at St. Petersburg, Russia in an aristocratic family of a liberal lawyer and politician. He was one of the five kids of his parents.
02/8

"Life is just one small piece of light between two eternal darknesses"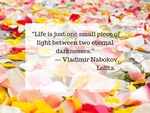 Nabokov began to write poems when he was just 13. His first published work was a book of poetry which released in 1914. His early writing was an attempt "to express one's position in regard to the universe," he once said.
03/8

"Nothing revives the past so completely as a smell that was once associated with it"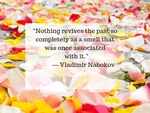 He graduated in 1922 and rejoined his family in Berlin, Germany where his father was killed by a monarchist. The acclaimed author was married to Vera Slonim in 1925. Together they had a son, Dmitri, who became an opera singer later.
04/8

"One is always at home in one's past…"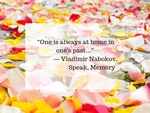 It was in Berlin, when Nabokov began writing using the pseudonym "V. Sirin,". He wrote stories, essays and poems for Russian newspapers; he later moved to Paris fleeing the Nazis in 1938. In 1940, he moved to the United States and began writing in the English language.
05/8

"Words without experience are meaningless"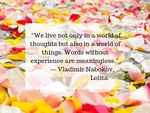 Nabokov taught Slavic languages at Stanford University in 1940. Between 1941 to 1948 he became a professor of literature at Wellesley College. It was from 1942 to 1948 that he also became a research fellow in entomology at Harvard University and developed his interests for butterflies. Nabokov discovered many species of butterflies and named one of them as "Nabokov's wood nymph." In 1941 he wrote 'The Real Life of Sebastian Knight', which is a parody of the mystery genre and its hero is inspired from his own life.
06/8

"Human life is but a series of footnotes to a vast obscure unfinished masterpiece"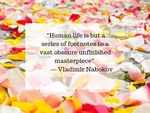 The author is best known for his critically acclaimed novel Lolita, where the protagonist Humbert Humbert, a middle-aged professor falls in love with a 12-year-old schoolgirl. The book was first published in 1955 in Paris. It released in 1958 in America where the libraries banned it for its controversial subject. But the critical reaction to the book soon changed to high praise. The author sold its film rights in 1962; he wrote the screenplay for the film which was directed by Stanley Kubrick.
07/8

"I think it is all a matter of love; the more you love a memory the stronger and stranger it becomes"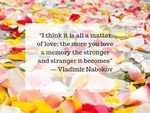 In 1963, Nabokov's English translation of Alexander Pushkin's novel Eugene Onegin was released; this was followed by other Russian works being translated to English by the author.
08/8

"It was love at first sight, at last sight, at ever and ever sight."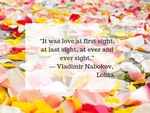 At the time of his death in 1977, Vladimir Nabokov was working on his novel The Original of Laura. Nobokov always wrote on index cards and he had written 125 index cards of his last work, which he had requested his son Dmitri to destroy after his death. But Dmitri was unable to do this to his father's last manuscript; instead he locked it away in a Swiss bank for three decades. Eventually, when Dmitri was worried about what would happen to Nobokov's last unfinished work after his own death, he got The Original of Laura published in 2009.
["source=timesofindia.indiatimes"]