PODCASTS
8 'GAME OF THRONES' PODCASTS YOU NEED TO LISTEN TO
The seventh and penultimate season of Game of Thrones returns to HBO this Sunday, July 16 after an extra-long hiatus. Fans of both the show and writer George R. R. Martin's rich book series are in an interesting spot, with two seasons and two books left to wrap up the massive, sweeping fantasy saga.
Thrones will dominate the water cooler conversation for the next seven weeks, but fans who want even more to chew on while they watch and wait can fill the gap with one of the hundreds of Game of Thrones podcasts available. But which ones? Whether you're show-only or slavish to the books, there's a pod for fans of every stripe. Here are our picks for eight of the best and most diverse Thrones pods out there, how each is different from the last, and why you should be listening to them.
Game of Owns
The pitch: Multiple hosts chat about everything Game of Thrones related — from show discussions and speculation, to deep-dives into book chapters, to interviews with special guests, like producer Bryan Cogman, composer Ramin Djawadi, and more.
Why you should listen: This long-running talk show is fan favorite for good reason — the energy is high, the discussions are excellent, the hosts are funny, and it's by far the most eclectic Thrones podcast out there in terms of content and format. A recent call-in  book discussion focused on Sansa and Arya was a highlight, and the cast and crew interviews are always fun and informative. They do discuss spoilers from time to time, but always give a fair warning.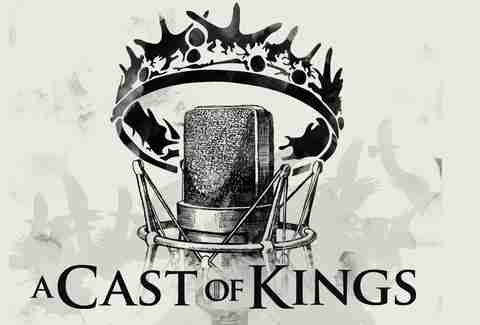 A Cast of Kings
The pitch: Joanna Robinson of Vanity Fair, a dedicated book reader, and David Chen of /Film, a dedicated non-book reader (though he recently, for the sake of the pod, read book one), deliberate each episode of Game of Thrones soon after it airs. They discuss adaptation choices, key moments, and don't shy away from healthy critiques.
Why you should listen: The dynamic is an interesting one, as Joanna is well-versed in Martin's world and David is relatively foreign to it. It's a great podcast for show-only watchers looking for a spoiler-free delve into the series, with some additional enriching from a more-informed viewer. And now that the show has caught up with the books, the hosts more or less on equal ground, which gives way for some enjoyable banter between the two.
A Storm of Spoilers
The pitch: Robinson also hosts this podcast, along with Neil Miller of Film School Rejects and Thrillist Thrones recapper Dave Gonzales. Joanna and Neil have read the books, Dave hasn't, but all three talk openly about every possible spoiler for the show — including leaked photos, set reports, trailers, rumors, and more. Their goal is not to ruin, but to enrich, as they'll tell you in the intro.
Why you should listen: This is a great podcast for viewers and readers who don't mind being spoiled, and the hosts have an excellent rapport. It's sort of like a subReddit come to life — no theorizing is off limits, and no stone left unturned, as they use context clues to piece together what to expect. During the season it's all Thronesall the time, but when the series goes on hiatus, the hosts do an "off-season tour," where they discuss other fandoms, from Star Wars to Harry Potter to Rick and Morty.
Sistah Speak: Game of Thrones
The pitch: Two hosts from the Sistah Podcasting Network — Sistah J and Sistah K — discuss the latest episodes with their trademark humor.
Why you should listen: If you're looking for a totally fresh perspective that's outside the realm of clear critical analysis, the ladies of Sistah Speak are a total riot. The episodes run long (their "Winds of Winter" episode analysis clocks in at 6 hours and 13 minutes), but are great to have on in the background. Synch it up, start the dishes, and imagine you're grabbing a drink with your best girlfriends while you chat about your favorite show. That's what it feels like.
History of Westeros
The pitch: Hosts Aziz and Ashaya discuss the show, the books, and the history of Westeros with episodes dedicated to lore and hidden secrets in Martin's world.
Why you should listen: The hosts have an encyclopedic knowledge of not just the books, but everything Martin has ever said about them, too. In addition to episode breakdowns during the show season, they like to focus on deep-pocket stuff, like the Blackfyre Rebellion, the mysterious city of Asshai, the Doom of Valyria, and more. They describe the pod on their website as "part lecture, part fiery sermon," and it's exactly that — perfect for book readers who like the extra analysis and show watchers who might be interested in the lore but don't know where to start.